What's the RoamingMan all about?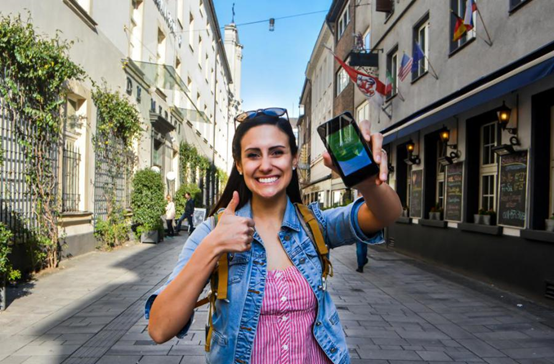 Between booking flights, catching trains and battling through language barriers, the last thing I want is to have to figure out where I'll find WiFi next.
We live in a world where life without WiFi seems like a different dimension. The days of carrying a paper map in your pocket seem to be fading away. Why? Because as a traveller on-the-go, let's face it… having WiFi makes things a lot easier and a lot lighter.
If you have access to unlimited internet you can:
● Ditch the paper map
● Leave the guide book at home
● Decipher languages at the click of a button
● Transfer money to your traveller's account
● Book your hotels and excursions
● Find the best price on flights
● Check the coolest places to eat
● Stay connected with your friends and family
● Read an unlimited number of e-books
● Keep updated on your video games
You get the point…
By having access to WiFi, we are able pack lighter and see more. That's why for me, the one thing that is important upon arriving to any destination, is that I can open my phone, hop on on the internet and figure out where I need to go first.
That's why when I have the opportunity to review a product like RoamingMan (offered to renters in the USA), I will gladly take up the offer.
So, I was sent a RoamingMan WiFi device to give it a spin and let the world know exactly what I thought.
To get you familiar with RoamningMan, it's a WiFi device that you can rent. It offers global internet service on-the-go and provides a hotspot for any and all devices with a WiFi functionality. The neat thing about this device is that you don't need any cables or SIM cards, you just turn it on and go.
Even my Grandma would use this device
When I first received the rental device, I took it out of the package, turned it on and the first thing that appeared on the screen was the data usage amount, WiFi name, password and IMEI code. I opened up my WiFi search on my phone, found the name of the RoamingMan device, punched in the password… and away I went.
While there was a quick guide in the package, I actually never did take a look at it. The device itself was so simple that I'm confident even my Grandma who has a terrible time with technology could figure this one out in a second.
It is a 3.5 inch LCD screen that includes only the information you need. There are no additional buttons to search through and navigate to. The only touch screen button available is one for customer service.
It also serves as a power bank
Remember when I said that we're so dependent on WiFi today because it makes things easier and lighter? Creating multi-functional devices also helps make things easier and lighter.
While I initially thought the device was a little bulky for my taste, the fact that it also serves as a power bank made it a lot easier for me to eliminate the 2-3 one-charge power packs that I had in my purse. The battery pack is 6000 mAh which charged my iPhone about 3 times over before the RoamingMan device ran out of battery.
I used the RoamingMan device for about a week without having to charge it once. The website says that the battery lasts up to 15 hours. While I didn't use the device for 15 hours non-stop, I think it's safe to say that the battery is darn good quality.
The internet service was better than my internet at home
Of course, this isn't to say that you would say the same, but I have pretty good internet and the RoamingMan device actually worked better than my connection at home.
On the second day I had the RoamingMan device, my internet cut out in the entire apartment and I had 10 minutes left of my favorite TV show, Suits. What did I do? I connected to the RoamingMan device.
It is a 4G network, but depending on what country you are in, you might only get access to a 3G network. Either way, the internet is super fast. Where I am at the moment in Germany, I have access to the 3G network and haven't had any problems connecting.
Since RoamingMan offers unlimited internet with the device, I never reached an issue where I ran low on data. Apparently, if you reach 500 MB in 24 hours, there is a chance that it might slow down on you until the following day. However, I never succeeded hitting that rate to test it out, and I'm sure you won't have an issue with that either.
You can use it for more than one device
The RoamingMan let me connect my iPhone, my MacBook Air, my iPad, my Amazon Fire Stick and my friends Samsung Galaxy all at the same time (5 devices).
The more important thing to note is that they all seemed to run at the same high speed even when they were all connected at once. This might differ depending on where in the world you are (in the middle of the jungle or the top of a mountain), but for me, exploring the cities of Germany, I haven't had an issue at all.
It works all over the world
If you want to take a look at the list of countries where you can use the RoamingMan, visit their Official Country List.
So, after a week of testing out the RoamingMan, I was pleased with the device and how useful it really was for me to have while exploring Germany. I forgot I had it with me most of the time and got to use to always having internet no matter where I was. I'm definitely not excited about sending it back now.
What about you? Have you tried out the RoamingMan? What did you think about it?
Travel tip shared by Jenna for Travel Dudes.